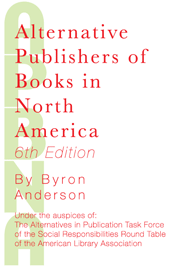 Alternative Publishers of Books in North America, 6th Edition, by Byron Anderson, is officially published, and available from Ingram, Baker and Taylor, Yankee Book Peddler, Amazon, and Barnes and Noble. It is the first title published by Library Juice Press, LLC.
This book is a directory of alternative publishers in the U.S. and Canada, meaning smaller, independent publishers of the overall left, which focus, varyingly, on topics such as sustainable development, punk culture, social justice, gender studies, human rights, socialism, anarchism, and globalization.
Entries provide a wealth of useful information about the 163 publishing companies covered, including contact information, years in operation, titles per year, areas of focus, and textual descriptions of a page or more in length that describe the history of the presses and talk about some of their publications. A subject index lets the user find publishing companies that focus on specific subject areas, which is useful for both collection development librarians and authors.
This is the 6th edition of the book, which was formerly published by CRISES Press, of Gainseville, Florida, associated with the review journal Counterpoise. It was formerly a biannual publication, but it has been over four years since the last previous edition, making this sixth edition a major update. From the start, this book has been a project of ALA/SRRT's Alternatives in Publication Task Force, to which compiler/author Byron Anderson is generously donating his proceeds.
The preface to the book, by former ALA President Nancy Kranich, discusses the context and the importance of alternative publishing, and it is available online.